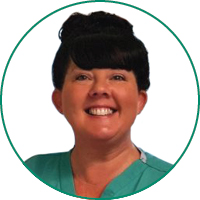 Lisa Morgan, the Freeman Hospital, UK



Lisa Morgan from the Freeman Hospital who has worked with and adapted our Baggins the bear collection over the recent years for her hospital and has achieved such positive results from the patients, parents/carers and the industry.

Lisa won the RCNi awards last year for her work following this and we had the opportunity to speak to Lisa about her Baggins experience and her award win.


Why did you initially start to introduce the Baggins the bear material?

'Baggins was already here when I started working in paediatrics' but it was just given to patients or their families at the end of the procedure. When I observed the care families had when they arrived at theatre I felt that we were unsure of the family dynamics and could only offer minimal support. I wanted to give a personal experience and began to visit the child and family prior to arriving to the operating theatre so I could answer any questions and would be able to put the patient and parents/carer at ease. Using Baggins is an icebreaker for me, I can explain exactly what is going to happen using Baggins to show the mask and monitoring that we will do in theatre'.





How do you use the Baggins the bear material?
'The Baggins book shows the journey a child would take to theatre and the people they may see along the way. This is information that both the child and parent can read together and have as a keepsake. I still use this even for a baby as the information I use is guided towards the parent/carer and as the child grows older it can explain what they had actually gone through to help understand their cardiac surgery'.

Can you share your thoughts on winning the RCNi awards last year, for the Healthcare Assistant Award category?
'Winning the award last year has been the highlight of my nursing career. For me to be recognised of the work I have put into our family connections and the outcome it achieves was amazing. I had so many people contact me after the awards for ideas of how to improve theatre practice which shows that Baggins isn't just a bear - he is a legend!!!'